Discover more from MILLER'S BOOK REVIEW 📚
Remarkable Reading on the Regular
Over 3,000 subscribers
The Devil Went down to Moscow
Yes Today, Satan? Reviewing the Soviet-era Classic, 'The Master and Margarita' by Mikhail Bulgakov
If you lived in a society that was strictly and officially materialist in which the state and its officers vetoed disagreement, what would you do if you still recognized the transcendent and dissented from the party line?
If you were Aleksandr Solzhenitsyn, you might write tales of gritty realism that mapped the tortured journey of the human soul through mazes of oppression. If, on the other hand, you were Mikhail Bulgakov, you'd write a surrealist satire that mocked the materialists and dropped the devil and his entourage in Moscow to bend the party line well past breaking.
When my son, Jonah, saw me reading The Master and Margarita a few weeks ago, part of my 2023 classic novel goal, he asked me what it was about. "Well," I said, "Satan shows up in Soviet Russia pretending to be a magician and pranks everyone."
Jonah thought about it for a second. "So, basically Loki," he said, referring to the Norse trickster god resurrected by Marvel.
"Yes," I said.
The Devil Comes to Town
The story begins with a literary editor, Mikhail Alexandrovich Berlioz, lecturing a young poet, Ivan Nikolaevich Ponyrev, about his depiction of Christ in an anti-religious poem. It felt too authentic. It might lead people to believe Jesus was real when in fact Jesus was nothing more than a fictitious product of the mind.
As their discussion continues, a foreigner interrupts and informs the pair, "Jesus did exist." He then narrates a version of Jesus's trial before Pilate—one that differs substantially from the canonical accounts—and caps the story by telling the two, "I was personally present at it all."
Berlioz assumes the man is insane. But neither he nor Ponyrev know how to deal with the stranger's nonsensical statements and goading. At one point Ponyrev blurts out, "There isn't any devil!" He doesn't realize he's speaking to him—nor that all hell is about to break loose in Moscow.
The foreigner goes by the name Woland and has descended upon the city with his coterie: Koroviev, a tall man in a cap and a checkered suit; Azazello, short, stout, befanged, in stripes; the seductive, red-headed vampire Hella; and Behemoth, a giant black cat who smokes, guzzles booze, and talks out of turn.
They need a place to stay and Woland informs Berlioz that he'll take over his apartment. Berlioz objects but soon—as Woland predicts—slips below a tram, severing his head and sending it bouncing down the road. Nor is this the only decapitation in the story.
Woland moves into Berlioz's apartment and contacts the Variety Theater to present a magic show. Taking the stage, Koroviev makes ten-rouble bills fall from the ceiling, sending the audience jumping and grasping for banknotes. When the master of ceremonies suggests Koroviev reveal how he did it, the audience frowns and Behemoth the cat rips off his head. After the decapitated head croaks an apology, Behemoth reattaches it and the audience thrills for more.
And just what—you might be wondering—is happening here?
The Covert Exposé
Bulgakov had been a well-loved playwright. Stalin appreciated his work. But as the regime cracked down on dissidents he found it impossible to sustain his career. He began quietly working on his novel, The Master and Margarita, to protest Soviet society and its corruptions. But how?
Critics of the government could be exiled, jailed, even killed; that's how Solzhenitsyn ended up in the gulag. Bulgakov's solution was a fantastical and farcical story which worked at multiple levels, including the symbolic and allegorical.
During the magic show, for instance, women in the audience eagerly, even greedily, exchange their old clothing for upscale French garments Koroviev conjures on stage. After the show ends, however, the women exit the the theater and their magical clothes disappear, leaving them wandering the streets in their undergarments. And those banknotes? They turn into seltzer-bottle labels in people's pockets. Utterly worthless.
For all their anti-capitalistic propaganda, Muscovites were every bit as covetous and grasping as anyone, maybe worse. And as far as the Soviet insistence on strict atheism, Bulgakov replies: Fine, if you won't have God, you can have the devil—and the devil will have you.
And there's more. So much more. Almost too much to cram within the covers of the book.
'Manuscripts Don't Burn'
There is, for instance, the story within the story: the retelling of Jesus's final hours and his influence on Pilate. Woland begins that story, but we soon discover it's actually part of a novel written by the so-called Master.
After writing the story, the Master destroys his manuscript with fire. But Woland returns it to him with perhaps the most famous line from the entire novel: "Manuscripts don't burn," an iconic phrase that became a watchword against Soviet censorship and suppression—a testimony to the irrepressibility of human creativity and free expression.
It's probably not wrong to see in the Master a reflection of Bulgakov himself, struggling to be heard in a system with a story hostile to that system. As a character, Margarita was fashioned in part on his third wife, Elena, who ensured the book survived after Bulgakov's death and was eventually published. In the story, the two characters possess an inevitable and inescapable love and must endure hell, literally, to end up together.
There are police chases, midnight flights on a broomstick and an airborne pig, a man instantly transported away, an empty suit steadfastly working at a desk, magical ointment that turns women into witches, and more mayhem than I can rehearse.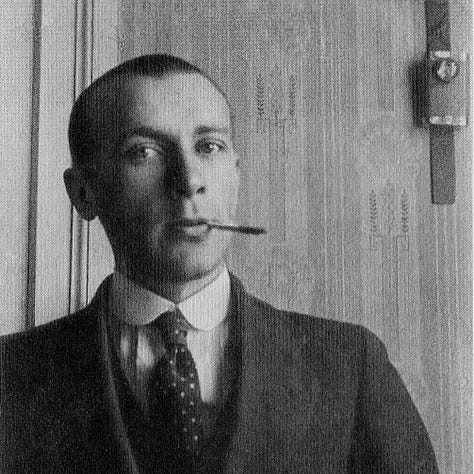 But Don't Worry: We Can Explain It All
When it's all said and done, Bulgakov takes a final dig at the Soviet system. After Woland and his crew depart Moscow on flying horses, officials are left trying to sort out what happened. How, for instance, do you explain Behemoth the talking cat—who couldn't be killed no matter how many bullets riddled his hide?
"It had been the work of a gang of hypnotists and ventriloquists with a superb command of their art," the Muscovites come to believe. "And it was all explained, and these explanations cannot but be acknowledged as sensible and irrefutable." Can it matter that the explanations are preposterous on their face and fail on every count?
No. Who, after all, can disagree with the official story? In a corrupt and sycophantic system, only the devil can tell the truth. And Bulgakov indirectly asks the reader: Will you persist in the lie?
---
Thank you for reading! Please share Miller's Book Review 📚 with a friend.
If you're not a subscriber, take a moment and sign up. It's free for now, and I'll send you my top-fifteen quotes about books and reading. Thanks, again!